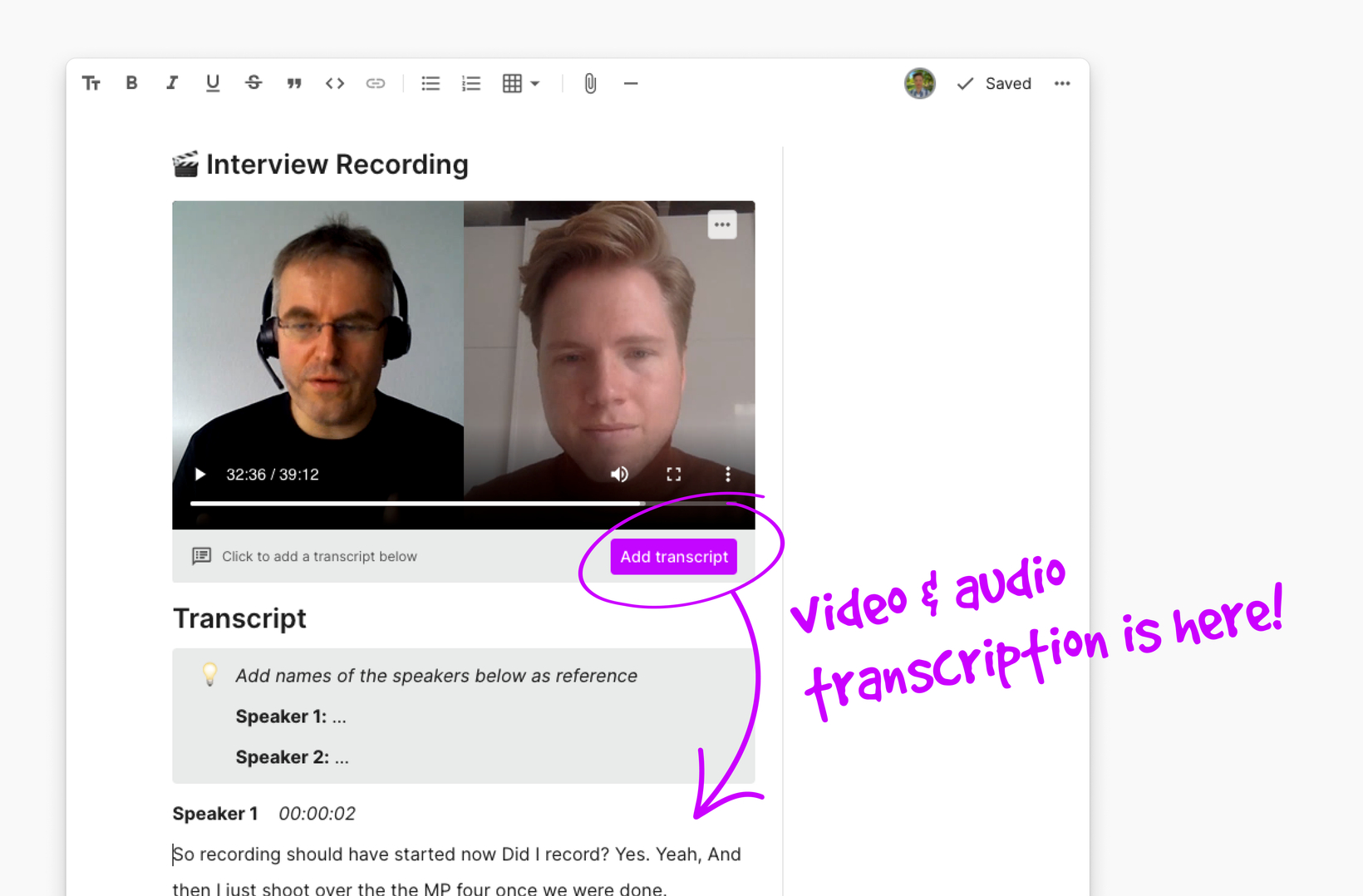 DATE:

AUTHOR:

The NEXT team
Video & audio transcription is here⚡️
DATE:
AUTHOR: The NEXT team
NEXT is announcing video- and audio transcriptions!
Seamlessly transcribe video and audio recordings of your customer and user interactions. Interpret and collaborate on the transcript building up the evidence, knowing the recording is always there to provide context and support your findings.
Recordings of customer or user interactions are the rawest form or data you can have. Such recordings:
provide everyone in the team with access to the rawest form of customer data for their own interpretations (vs. building on each other's interpretations)

contribute towards increased sharing and collaboration by offering a larger 'data surface' and context available for interpretation – gives the team much more to work with vs. interpreting bullet points from one member

increase the team's confidence by boosting the evidence base and strength supporting product decisions

contribute towards building a data repository that is priceless in the long term – including capturing customer input that may only become valuable in the future and would naturally have been overlooked today
How it works
Upload a video or audio recording of a recent interview, user test, podcast, product demo, or any other kind of customer interaction. NEXT will transcribe the recording with an advanced AI-powered speech engine. Add the transcript to your note clicking the "Add transcript" button. Then, highlight the transcript turning your raw recording into tagged, interpreted, and searchable end-user data.
---
☝️ Please note that the audio- and video transcription feature is currently only available for enterprise customers. If you want to know more, reach out to sales@nextapp.co.